2018 World IFYE Conference
11th WORLD IFYE CONFERENCE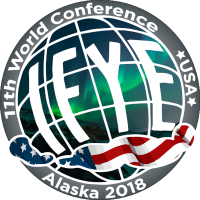 STEP 1 - Register for the 11th World IFYE Conference
PLEASE NOTE:

It is necessary to register for the IFYE CONFERENCE prior to registering for the cruise! This allows Cruise Specialists to verify that individuals are with our IFYE conference group. NOTE: Single travelers who are waiting for a roommate to share a stateroom on the cruise must complete the Cruise Booking Form AFTER a roommate has been secured. Availability of a specific stateroom cannot be guaranteed.
The conference begins with two OPTIONAL events at the Sheraton Vancouver Airport Hotel on 8 September 2018:
Celebrate with '68 – 50th Anniversary Brunch, 10:30 to 11:30 hrs. for all IFYEs who traveled on the IFYE program in 1968 and guest(s). The cost is USD $35 per person and requires pre-registration.
IFYE "Meet and Greet", a chance to visit and reconnect with IFYEs and others - 17:00 to 21:00 hrs. COST: USD $50 per person (The registration fee includes hors d'oeuvres and cash bar on 8 September AND hotel-to-ship transportation on 9 September.) It is a requirement to purchase the "Meet and Greet" ticket if you wish to take advantage of the hotel-to-ship transportation organized by Cruise Specialists for 9 September.
2018 Conference logo Polo Shirts available during registration:
2018 World Conference white polo (collar) shirt (s) are only available during the registration process. IF YOU WANT ONE OR MORE. ORDER THEM AT THAT TIME. EXTRA IFYE WORLD CONFERENCE SHIRTS WILL NOT BE AVAILABLE AT THE "MEET AND GREET" OR ON THE CRUISE.

For further
CONFERENCE REGISTRATION
information, please contact:
   Toni Frank    
tonifrank10@yahoo.com
   TEL: 217-652-8879 (from USA) or International +217-652-8879
__________________________________________________________________________
STEP 2 - Upon completing STEP 1,
you will immediately see an online display and receive an e-mail notification to verify you are part of the IFYE Group. These notifications will include a link for you to make your request for a RESERVATION on the Holland America Alaskan Cruise. The notification will also include your World IFYE Conference Message Tracking Number (WC#) which is unique to your Conference registration and is needed on the Cruise Booking Request Form.
For further CRUISE and/or HOTEL information, please contact:
   Gillian Clark at Cruise Specialists (gclark@cruisespecialists.com)
   TEL: 206-285-5600; 800-544-2469 (toll free from U.S.)
__________________________________________________________________________
For further GENERAL CONFERENCE information, please contact

   Kim Reaman
   kreaman@uwyo.edu
   TEL: 307-760-8703 (from USA) or International +307-760-8703
__________________________________________________________________________