Upcoming Conferences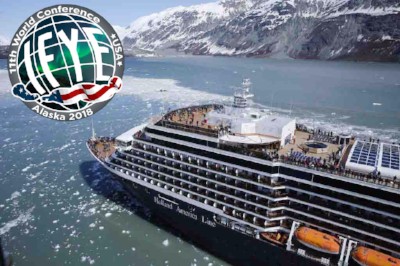 11th WORLD IFYE CONFERENCE
8 - 16 September 2018
"Cruisin' with IFYE"
Hosted by the IFYE Association of the USA

Cruise Vancouver, British Columbia to Seward, Alaska aboard Holland America Line ms Noordam
The registration fee for the 11th World IFYE Conference is USD $55 per person and includes the following events during the cruise:
Early boarding onto the ship
Welcome reception on Sunday with an open bar, as well as hot and cold appetizers
Opening ceremony on Monday
Regional IFYE meetings on Tuesday and Wednesday
Hospitality receptions and social activities throughout the cruise
Seating at dinner in the main dining room with the IFYE group
Country IFYE Coordinators' Meeting/Training on Saturday
Closing ceremony on Saturday
The conference begins with two optional events at the Sheraton Vancouver Airport Hotel on 8 September 2018:
1968 IFYE 50th Anniversary Gathering and Brunch for all IFYEs who traveled on the IFYE program in 1968 and guest(s).
IFYE "Meet and Greet", a chance to visit and reconnect with IFYEs and/or others
The 7-day Alaskan Cruise will depart Vancouver, British Columbia Canada on 9 September with optional shore excursions at the following ports of call: Ketchikan, Juneau, Skagway, with a day of scenic cruising in Glacier Bay. You will depart the cruise in Seward, Alaska on 16 September 2018.
The World IFYE Conference officially ends when the cruise finishes on 16 September 2018. You can make arrangements to:
fly home from Anchorage
cruise back to Vancouver
sign up for a land tour through Holland America OR
sign up for one of the tours organized EXCLUSIVELY for IFYE.
PLEASE READ THE INFORMATION BELOW BEFORE REGISTERING FOR THE  2018 WORLD CONFERENCE
(READ ME FIRST) TIPS FOR ATTENDING THE 11th WORLD CONFERENCEE
CRUISE LINE INFORMATION
2018 WORLD IFYE CONFERENCE INFORMATION
REGISTER NOW FOR
SUPPLEMENTAL TICKETS  

(

This is for individuals registered for Conference and Cruise but need to add an item.)
PRE-CRUISE ONLY 

(This is only for those individuals NOT going on the cruise.)