About IFYE
Colleen MacMurtrie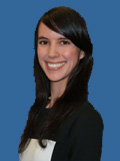 Colleen MacMurtrie was a 2015 Virginia IFYE to Estonia and Switzerland. Colleen was active in her local Rabbit and Poultry club and several non-ownership clubs while growing up in 4-H. She was tapped in as a Virginia 4-H All Star in 2005.
She currently works as a Listing Coordinator for a Real Estate Team in Northern Virginia.
In her free time, she enjoys catching the latest Netflix shows and playing with her 2-year-old black lab.